Vtg 1950's German Windup Composition Easter Bunny Candy Container 6.5 Works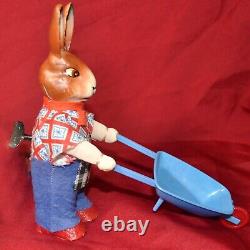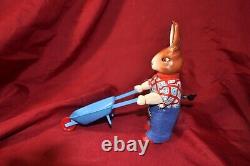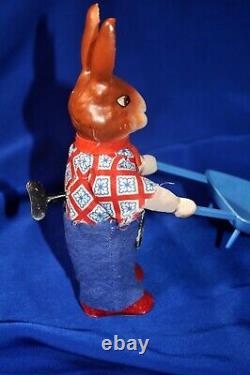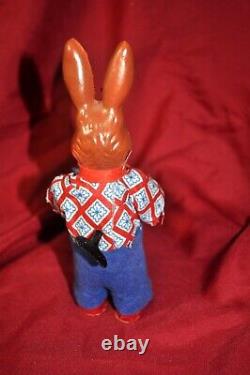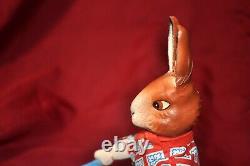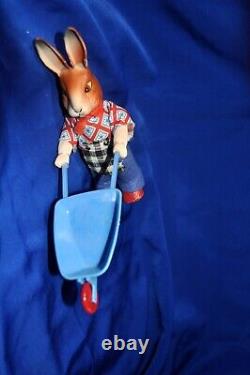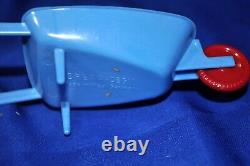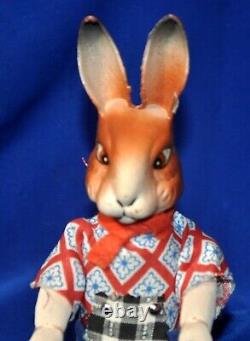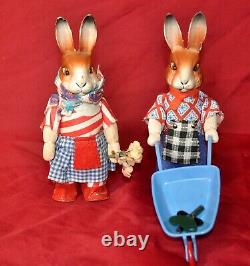 This beautiful piece is from Western Germany, and dates to the 1950's. He stands about 6.5 and is marked West Germany on the bottom of his shoes and on his wheelbarrow. He is really gorgeous, and in great condition. They go well together, and really match, with just a few small differences - the shoes are a slightly different color and fabric, and marked "Foreign" for her and "West Germany" for him. His key is slightly different.
They are both gorgeous, in amazing condition, with no broken or missing pieces. ANYway, back to this fellow. He works, but doesn't do much.
He just shuffles his feet and vibrates a lot. His shoes are great - the look like leather, although I don't believe they are. His arms are made from stretchy net, and the wheelbarrow is embedded in his hands.
His clothes are real cloth, and in very good condition - they are slightly soiled, but not really dirty. He stands just fine, and has a key to wind in the back. He is medium sized at 6.5 inches.
He doesn't have any damage, just a few chips to paint on her ear tips, and a bit of overall "age".