ANTIQUE 1915 EASTER GERMANY CANDY CONTAINER Hand Made BUNNY ON LEGS, TOYS INSIDE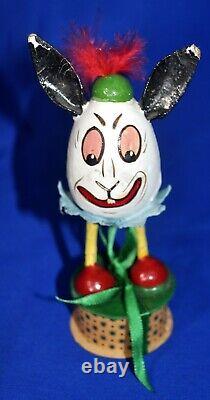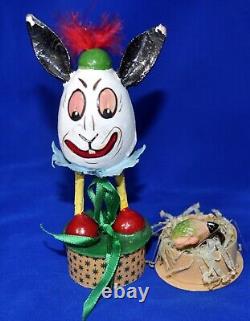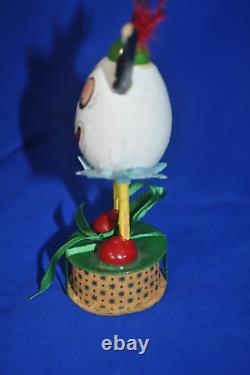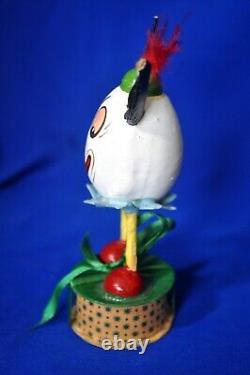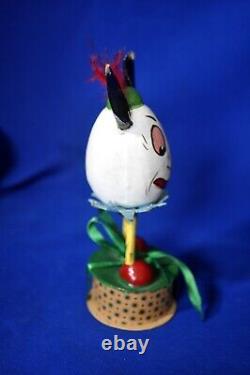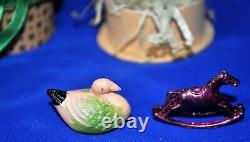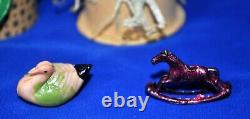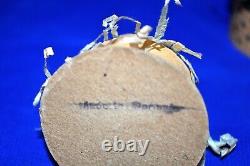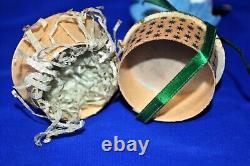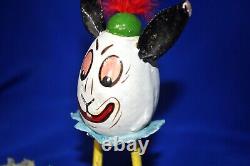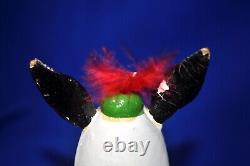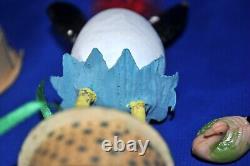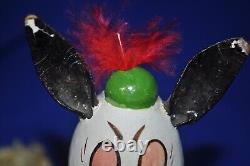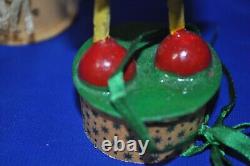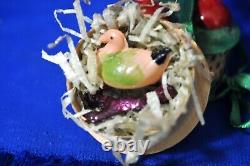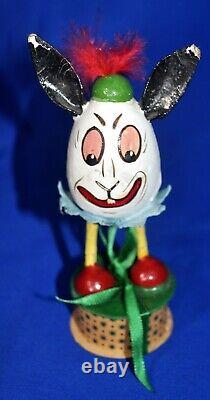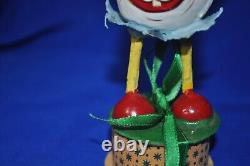 I discovered something just in the past month, that I didn't know. Many of the antique eggs and "candy" containers from Germany had little toys inside - not candy. The toys were a mix of little pieces with many being from Japan. In the early part of the twentieth century Japan and Germany were big allies - and stayed that way through WWII.
So I guess I shouldn't be surprised! If you are interested, check back. This fellow has a tiny celluloid duck that is in perfect condition, and a little lead (or probably antimony) rocking horse enameled red.
They are very tiny pieces, and fit in the very tiny 3/4 tall box. The other eggs I have also include little celluloid pieces, also from Japan. The most amazing thing about this fellow is his expression. German fairy tales and children stories always had a dark side, and many times a dark ending.
This is one way to tell the age on the Germany candy containers (and often some of the US ones) - the darker the expressions, the earlier they are! The box is really nice and sturdy, with no damage. The color has darkened with age, but fits nice and tight. The grass inside is shredded glassine. Glassine is a translucent waxed paper that was used in the early part of the last century because it is translucent, and cellophane wasn't used at that time - it was too expensive.
The little piece has wood stick legs with composition feet, head, ears and hat. His face is matte finish, while his ears, the lid of the box and feet have been lacquered. He really won't disappoint - He is so rare, with the toys still inside!