Vtg Antique 1920 Primitive Scary Stuffed Easter Bunny Pillow Toy Folk Art 15 In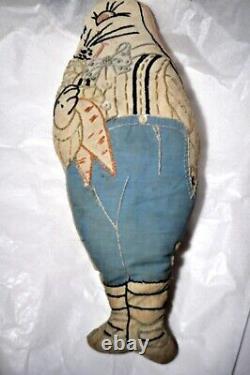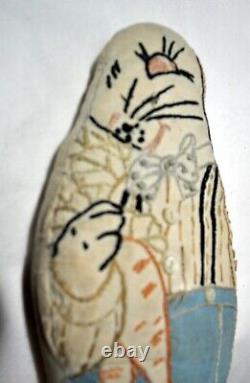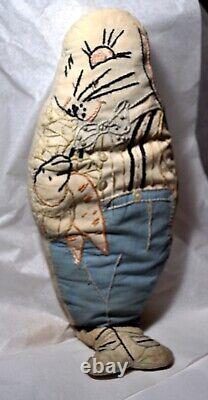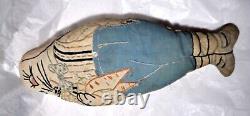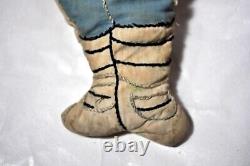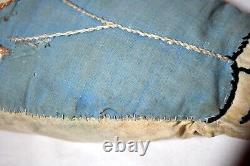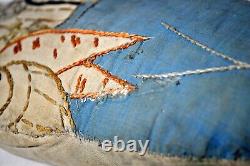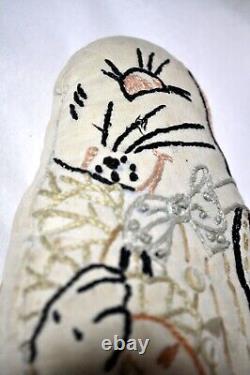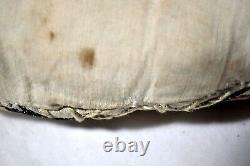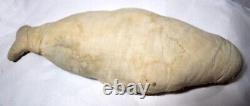 This doll is large, measuring 15 inches tall, and 6 inches wide. He is old, and quite primitive. He dates to around 1920, and is a "farmer" bunny. He looks a bit scary to me! He is stuffed with antique batting, which is quite heavy.
He weighs almost 1 pound. He is oval shaped, and only has features from one side. He is carrying a bunch of carrots, and wearing a shirt and suspenders, with a bow tie. He is wearing blue cotton pants, and has laced boots. He looks a bit haunted!
He has ALL kinds of flaws, which is to be expected with a primitive piece made for a child, that is this old. He has been well loved. The back shows lots of stains, and the front shows lots of wear. The cloth and embroidery have faded, and the bunny is gray (I think he started out white).
He really makes a statement! He has no bad smells.