DHLFree shipping New+24Channels fireworks firing system+wireless remote Controll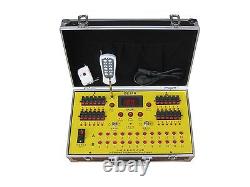 We have more item, if you need pls contact with us, we will show you website! Frequency according to your Country requirement!!
+24Channels fireworks firing system+wireless remote Controll. DE Series firing system worked by 220V/110V AC.
It has the test function. Each channel could fire about 20pcs igniters. This series firing system could.
Salvo fire, sequential fire and step by step fire. It can be remote and manual control. Salvo fire & Seqential fire. Salvo: The time table shows: 9.9s when the power was ready. After you press buttontimeone time, the time table will change to 0.0s.
Sequential: Once you press the timebutton one time, the sequential time will add 0.1s. When it is adjust to the time that you need, pls press rapid button, it will make firing system sequential fire. If you need reset sequential time, pls cut off the power for about 2 seconds. Step fire: Pls make sure that the time table shows 0:0. Then pls press stepbutton or 1.2.3button one by one.
Both way will make it fire step by step. Number of cues: What the time table shows is the sequential cue numbers during the sequential fire. 1 Please do not shake incept box violently.
When no need use it. When you connect the product well, do not touch the clip of the in order to not the because of the. 3 Please take the cell out when no use products, for prevent defile incept box.
4 Please do not place the product in the damp, sour, alkali and pollution environment. 5 The remote by the rolling controlled number, with this remote, the receive will not be controlled by other remote in 1 million, but also maybe appear, when connecting the make sure your body far away the exit of the after connecting, far away the and take care yourself. Your product can be delivered in 3-7 days.