Antique 1930s Large German Vtg Easter Candy Container, Chicken On Nest W Chicks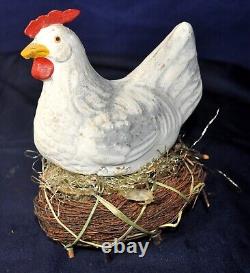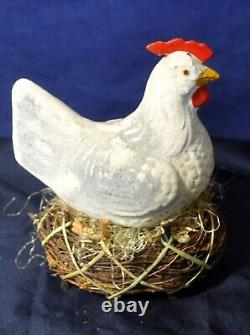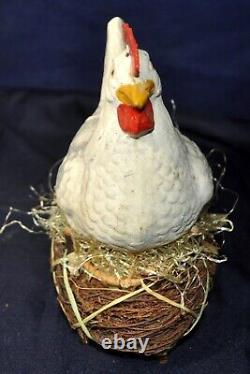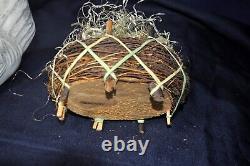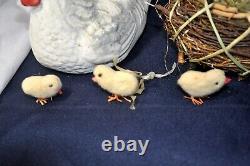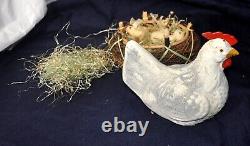 This beautiful candy container is a large one - usually the bird on nest containers are small. This one really is eye-popping, at 6.5 inches tall. The chicken is hollow inside, so you can see the molded cardboard. The paint is rubbed, which adds to it's antique patina.
There are two different types of "grass" in the nest. One is shredded glassine - a type of oiled translucent tissue paper that was used a lot at that time - cellophane was around, but was much more expensive. Glassine envelopes were used for all kinds of things, because it is translucent. The chicken itself measures 5" wide by 4" tall. Overall the set is in great condition, and displays beautifully.
The hidden chicks in the nest are a huge bonus, and make the set remarkable! You won't be disappointed. The information below is not necessary, but I include it if you are interested. Feel free to skip, as it's just informational about German candy containers, in general.
So, in 1938 Germany invaded Poland. This was getting toward the end of the Great Depression, which started in 1930, and was world wide. Candy containers, before 1930, were hand made and extremely elaborate. After, they became increasingly less elaborate, using less expensive raw materials, until they pretty much stopped at the invasion of Poland.
For the most part, the candy containers were made, in the Erzgebirge Region, by hand, as a cottage industry by various families in that area. The Erzgebirge region encompassed what was later West Germany AND East Germany, and sometimes some of the surrounding small countries.
The Erzgebirge region is in the Thurgian Mountains (Ore Mountains), which was home to generations of families making pieces like this. The families each had their own designs and tools, so while the pieces always look similar, they were also different, depending on the artist. Some of those families are still in business today. Regarding the marks and a bit of history - if it was to be exported, it was marked "Germany" until 1945.
There weren't a lot of exports between 1938 and 1945, because of WWII. After WWII, Germany was divided and exports were marked "West Germany", GDR (East Germany), or for a few years "Occupied". After 1989 things were again marked just "Germany".
This has led to some confusion, with some folks marking new stuff as antique. This is why "patina" is important. Once you hold an old piece in your hands for up close inspection, you can tell the difference.
Basically, if it looks to good to be true, it probably is. There will always be some small signs that a piece is old, when inspected up close. I always look for the very best pieces, and then describe in great detail any flaws, patina, or anything that can be described, so you know exactly what you are getting. I think, if you collect, it is important to know!